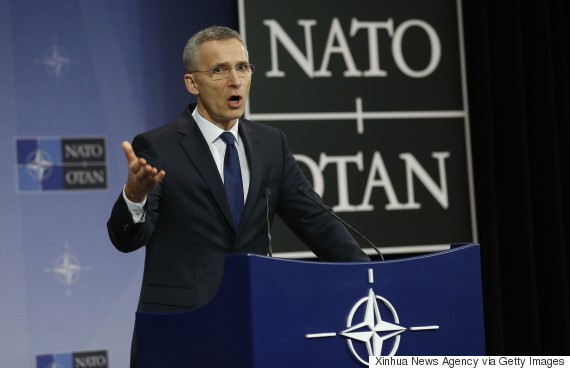 In 2016, the United States economy represented just below a half of the alliance's combined economic output, but almost 70 percent of its defence expenditure, NATO's annual report showed.
Overall, the US-led alliance reversed the downturn in 2015 and past year, defence spending rose 3.8 percent or $10 billion (9.3 billion euros), it noted.
NATO Secretary-General Jens Stoltenberg says the alliance saw a 60 percent increase in "cyberincidents" during 2016 compared to the previous year.
Military expenditure across Europe, however, remained below 2 per cent of gross domestic product - a threshold that President Trump has said is crucial for European allies to achieve.
His administration has repeatedly pressed the allies to meet a pledge to spend two percent of GDP annually on defence by 2024.
Faced with a more belligerent Russian Federation that has sent troops into Georgia and Ukraine in recent years, North Atlantic Treaty Organisation allies have halted the slide in spending but many are still well below the target.
Google Buys Kaggle, a Data Science Community, to Bolster Cloud Offerings
Buying Kaggle could also boost Google's recruiting efforts, giving it access to a large pool of scientists. Adding more regions will help Google compete with other public cloud platforms like Microsoft and Amazon.
France and Turkey are close to meeting the 2 percent requirement. "It is realistic that all allies reach the goal of two percent".
NATO's overall figure for 2016 stood at 2.43 percent versus 2.40 percent in 2015.
Stoltenberg said Romania was due to meet the target this year, with Lithuania and Latvia expected to follow in 2018.
Trump suggested during election campaigning that he might not defend allies who fail to meet the target, rattling the 28-nation military alliance, particularly countries bordering Russian Federation.
Trump has also called for a $54 billion hike in U.S. defence expenditure, now at more than $600 billion, winning broad support but also criticism that the money could be better spent elsewhere.
- The NATO report released Monday estimates Canada spent 1.02 per cent of its GDP on defence, which would represent a slight increase from 0.98 per cent in 2015.