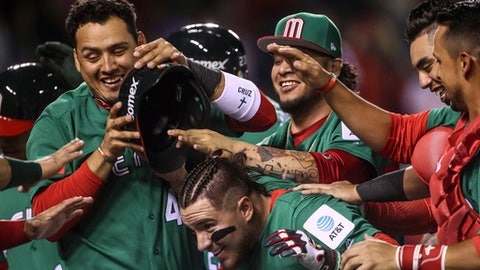 The second round of the 2017 World Baseball Classic pool play is underway, and on Wednesday night, the United States will match up against one of the most talented teams in the tournament. Pool F play takes place in San Diego's Petco Park.
Puerto Rico, which went 3-0 to win Venezuela's first-round pool, and the defending champion Dominican Republic are the other teams in Pool F. Two will advance to the single-elimination semifinals at Dodger Stadium next week. Due to previous results, Italy (1.05) and Venezuela (1.11) will play a tiebreaker game on Monday night, while Mexico narrowly misses out (1.12).
It is safe to say that Los Angeles Dodgers' first baseman Adrian Gonzalez is not the biggest fan of the World Baseball Classic. But then officials informed Venezuela of the correct calculation in the locker room. Because the Italians walked off in the 9th inning with the victory before any outs were recorded, it technically does not count towards Mexico's "defensive inning" count, while the runs scored by Italy do count. The designated hitter hit a three-run home run in the fourth to make it 10-0.
New footage raises questions about police killing of Michael Brown
The shooting of the unarmed black Missouri teenager in August 2014, sparked widespread protests, some of which turned violent. Ferguson police had released surveillance video of Brown strong arming his way out of the same store with cigarillos.
Israel beat the Netherlands 4-2 in the first round in Seoul but saw a different team on Monday at Tokyo Dome. Jair Jurrjens picked up the win after striking out five batters and holding Israel to one run and five hits over six innings. Italy finished 1-3 in the tournament.
While that seems simple in theory to understand (you take the amount of runs scored and divide it by innings), Mexico's 10-9 loss to Italy on Saturday night messed everything up.
Winning pitcher Luis Mendoza gave up three hits and two runs in four innings.