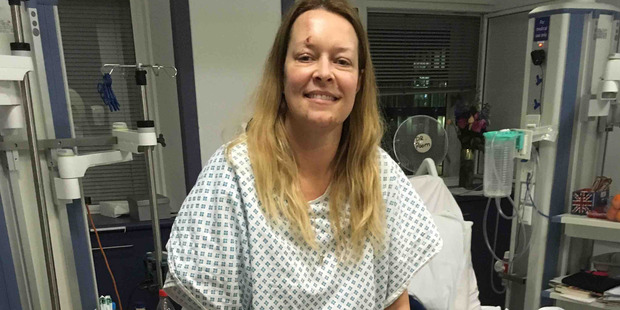 The first pictures have been released of the widow of the Westminster terror attack victim Kurt Cochran recovering in hospital.
Another image - with the caption "Getting stronger every day!" - shows Melissa standing on crutches in a hospital room.
Melissa Cochran, whose husband Kurt died in the attack, was photographed in hospital where she is undergoing treatment for her injuries.
In the other she is shown smiling in bed while taking a selfie surrounded by her family and friends. Melissa survived with a broken leg and rib, and a cut to her head.
The couple, from Utah, were on their final day of a trip to London to celebrate their 25th wedding anniversary when Masood swerved into pedestrians on Westminster Bridge. If you are considering a deposit to the account, you should consult your own advisors and otherwise proceed at your own risk.
The Bountiful memorial concert will be live-streamed to London so Melissa Cochran can see the support from the local arts community.
On Thursday, Melissa's brother Clint Payne posted two pictures of her smiling in a London hospital on a Gofundme page he set up to help provide an income to his sister during her recovery. The couple, from Utah, had been in London to celebrate their 25th wedding anniversary.
China confirms return of Kim Jong-nam's body
It was released as part of a deal under which nine Malaysians previously prevented from leaving North Korea have now arrived home. Police chief Khalid said the North Korean embassy had at first confirmed the identity, but changed its stance the next day.
'So many people have been so kind, and we are deeply touched by their goodness and generosity.
The family of Westminster terror attack victim Aysha Frade say she will be remembered as "our guardian angel who never shied away from facing up to bullies", her family has said.
"The most hard part of all of this is that Kurt is no longer with us, and we miss him terribly". Kurt died from his injuries.
Mrs Cochran was hit by Khalid Masood's auto.
The 44-year-old was killed on Westminster Bridge.
The Counter Terrorist Bureau detective said: "On Wednesday 22 March 2017 at approx 2.40pm a male drove a Hyundai motor vehicle, registration EK66 RWO, northbound over Westminster Bridge towards the Houses of Parliament". Masood was then shot by police.