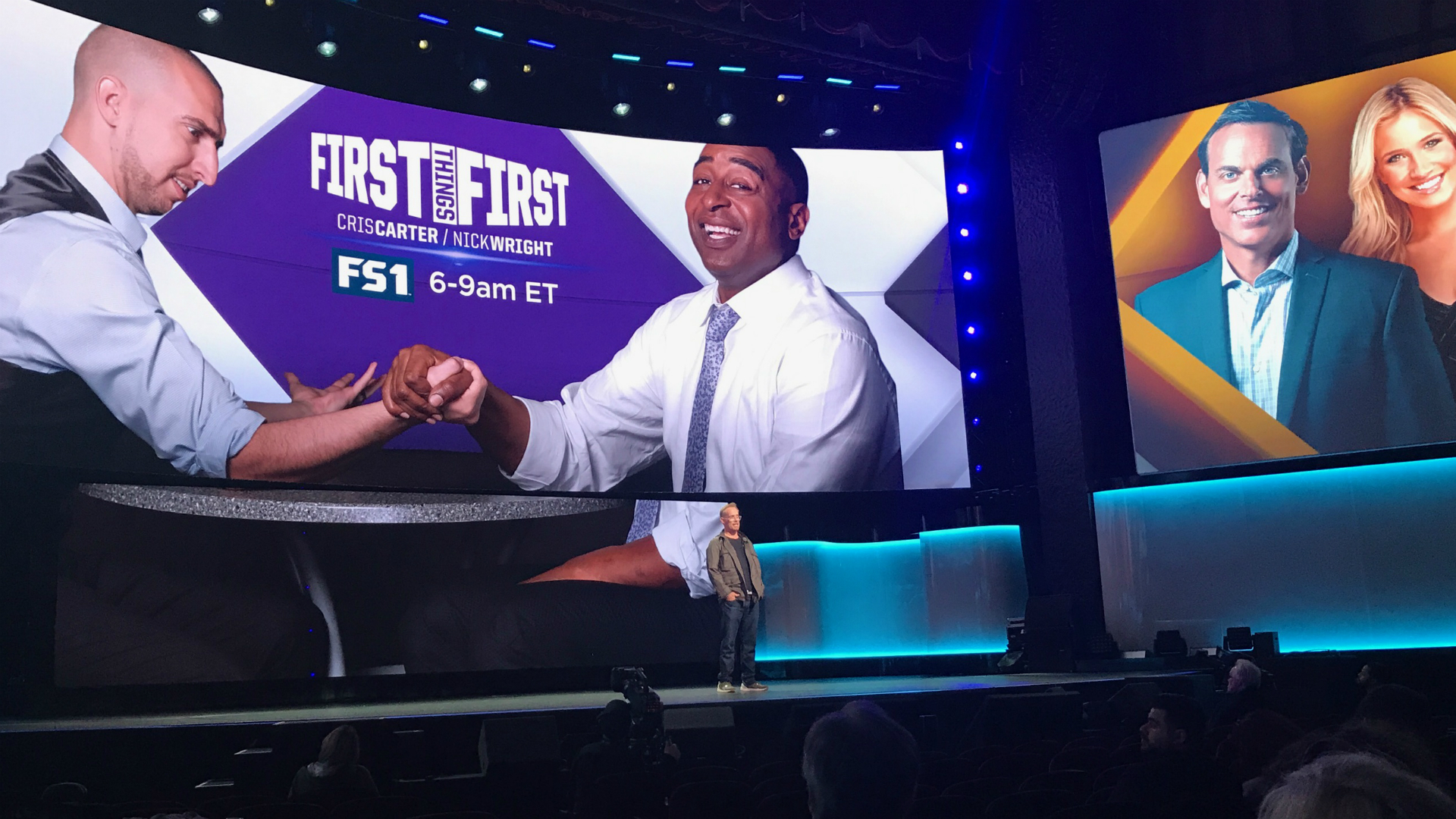 Trey Wingo will take Greenberg's spot alongside Mike Golic on "Mike & Mike", and the two will be joined by Mike Golic Jr. from 6:00-7:00 a.m.
The format of Greenberg's new show is still being worked out, but the concept may be similar to MSNBC's popular "Morning Joe" with a series of rotating guests discussing the sports news of the day.
"First Take" will remain in its 10:00-noon time slot, and a show hosted by Bomani Jones and Pablo Torre will air from noon-1:00 p.m. ESPN's block of afternoon program will remain the same.
The big Mike news that we all heard about back in January is finally official: Mike Greenberg and Mike Golic, the hosts of ESPN's Mike & Mike radio show, are going their separate ways.
ESPN formally unveiled its new daytime lineup on Tuesday at its upfront presentation for advertisers in NY, and while the details had been out there in rumor form for some time, the announcement hammered home one specific point: The daytime versions of "SportsCenter" as we know them on ESPN are being de-emphasized as the network embraces personality-driven ways to fill the time between live sporting events. "Both men will bring new and interesting voices to our morning conversations and help to create a fresh fun show for our audience".
Social Security Administration releases most popular baby names list
It has been rising through the list since 2012, when the first "Hunger Games" film, starring Hemsworth, premiered. For boys, the top go-to name for the past century has been James, followed by John, Robert, Michael and William.
Mike Greenberg and Mike Golic have been together for almost 18 years on the set of Mike & Mike. "I appreciate the loyalty of those who have started their mornings with us over the years and hope they continue to do so for years to come".
But the writing was on the wall when Greenberg signed a huge new contract to remain at ESPN late a year ago, reportedly one of the network's biggest at $6.5 million annually. More details about the show will be announced at a later date.
The move will put an end to one of the longest-running sports radio partnerships which began in October 1998. The show will operate from NY, instead of Bristol, and it will take over a time slot previously dedicated to SportsCenter. Torre joined ESPN in 2012.
The sports anchor fled ESPN in 2015 and now hosts "The Herd" on FS1. He is the host of ESPN's multi-day NFL Draft coverage. "ESPN is committed to putting talented women in high-profile positions and we look forward to Beth and Rex's call of this game on our MNF opening night".