FUTONS WERE—and are—staple furniture of broke college kids everywhere. The old-school wood-slat frames and heavy, lumpy mattresses were designed entirely with versatility in mind: Couch by day, bed by night. And, above all else, they were extremely affordable. We're talking $200 or less for a halfway decent model, including the frame and mattress. Maybe less if you knew a guy who knew a guy looking to get rid of one. One thing they weren't, however, was design-minded.
But, like bean bag chairs, futons have gone all adult in the last few decades. We're talking high-brow designs with plush velvet upholstery, built-in ottomans, hidden storage compartments, and more. Today's futons no longer have to be tucked away in a guest room you never use. Many are handsome enough to place front-and-center in a family room. With hundreds, even thousands, of models available, you might not know where to start shopping.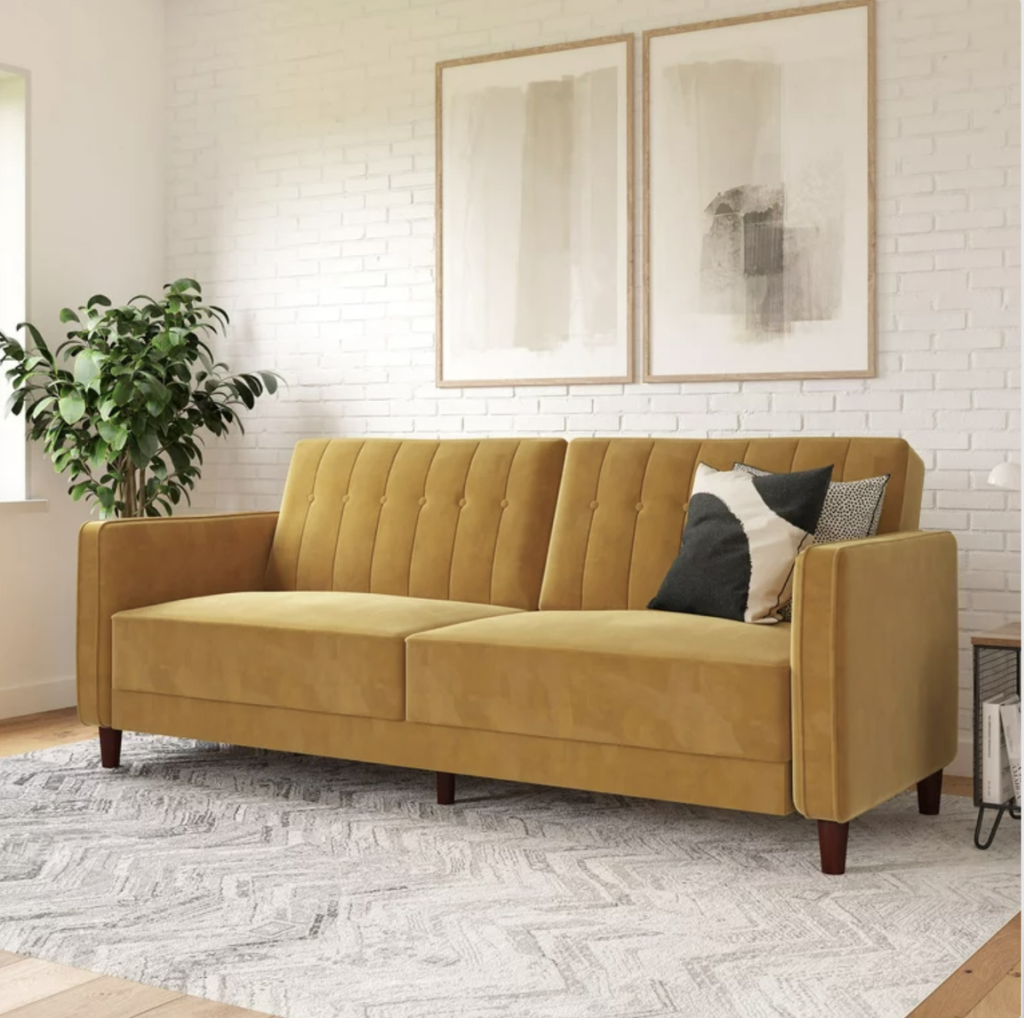 1. Tallulah Memory Foam Futon
Novogratz proves futon beds have come a long way since the drab, OG "dorm room" models your parents (or you) slept on in college. The Tallulah's sleek, retro-modern silhouette looks and feels more like a traditional sofa. With solid wood legs and tufted velvet cushions, it's equal parts sophisticated and fun. A blend of memory foam and high-density foam cushions ensures it's comfortable whether you're sleeping, reading, or relaxing with the TV on.
What sets this model apart is the versatile back. The split design means you can recline just one half or the entire back, and the cushions lie completely flat or at a perfect angle for lounging. It's available in a handful of handsome colors, including green, blue, grey, and pink velvet. But, the best part is that it's well-priced at around $300, delivered. If you're looking to round out a complete room, it's also available as a matching chair or daybed. What's not to like? It should be no surprise why this is our hands-down pick for the best futon bed overall of 2022
What do buyers say? Out of more than 2,300 Amazon reviews, 82% recommend the Novogratz Tallulah Memory Foam Futon with at least a 4-star rating.
2. Sinagra 91" Genuine Leather Recessed Arm Sofa Bed
If a legit sleeper sofa is more your speed, we like this genuine leather model from Wade Logan. With classic lines, slightly flared arms, and an overall clean look, it's a great option for more traditional rooms. The made-to-order leather cover is available in nearly 20 mostly muted colors. This futon bed sits three but unfolds to reveal a legit queen-sized mattress with plenty of room for two grown adults.
Unlike old-school "budget" futon beds, the heavy-duty construction of this model means it's built to last. At 200 pounds, it's by far the heaviest futon on this roundup, and you'll need a door frame with at least 38" of clearance. At nearly $3,000, it's also the priciest futon on this list. But, for a sturdy, handsome, made-to-order leather piece that you'll likely have for a decade or more, we think it's worth it.
What do buyers say? "A really nice couch, great quality leather and make," said one Wayfair reviewer.
3. Tucson Rustic Walnut Frame and Mattress Set
Jerry Sales' Tucson Rustic Walnut Futon Sofa Bed reminds us of the old-school wood slat futons of the last century. But, this model feels like a distinct step above. The dark walnut frame has a Mission-style design that's rugged, timeless, and handsome. The thick, one-piece mattress is available in more than a dozen colors, so it's easy to match your decor. With a combination of coil hinged springs and high-desnsity foam, it's surprisingly comfortable (especially for a futon bed). It also folds down easily with minimal effort into a full-size bed with plenty of room for two full-grown adults.
Buyers love that it's also available with optional built-in drawers which is especially helpful if your guest room is short on storage space. Small plastic wheels at the corners help the large drawers glide on any floor surface. Of course, a premium design makes for a premium price tag. This one's priced at more than $600 or close to $800 for the drawer model—both with free delivery.
What do buyers say? Out of more than 180 Amazon reviews, 93% recommend the Jerry Sales Tucson Rustic Walnut Futon Sofa Bed with at least a 4-star rating.
4. Rane Convertible Sofa Bed
Serta's Rane Convertible Sofa Bed features a sleek, streamlined aesthetic—thin metal legs, clean lines, and an armless design are a perfect match for any modern minimalist decor. The tufted, cushion back and seat help elevate the otherwise basic design above ordinary. With four available color options, it's designed to look great in just about any room.
Many buyers comment how easy it is to assemble—not surprising given its small size and lightweight frame. On the downside, this model is only available in twin size. But, that compact footprint also makes this a great option for tight spaces, like small guest rooms or dorm rooms. The best part, however, is the price. At around $200 delivered, it's our pick for the best budget futon bed of 2022.
What do buyers say? Out of more than 12,000 Amazon reviews, 75% recommend the Serta Rane Convertible Sofa Bed with at least a 4-star rating.
5. Milo 2-Piece Sleeper Sectional
Not all futon beds have to look like futon beds. VCF's unique Milo is a legit two-piece sectional with a sleek look that's both contemporary and timeless. It's large enough to seat three or even four adults and children. When it's time to turn in for the night, a hidden drawer and cushion pull out to complete the "bed." We especially love the hidden storage compartment built in to the ottoman—perfect for stashing extra sheets, blankets, and pillows. The solid wood construction makes this one heavy and heavy-duty, so it's durable enough for just about any room in the house, from guest rooms to high-traffic family rooms.
Of course, all these features come at a price. At nearly $1,500 (not including delivery), it's among the pricer futon beds we've seen this year (but we'd argue it's worth the sticker shock). It's only available in two colors, although both the Charcoal and the Light Grey are designed to work with just about any decor. Plus, some assembly is required (might be a deal-breaker for some) and the covers aren't removable, meaning this one is spot-clean only.
6. Module Ergonomic Sofa Bed
If minimalism is your preferred aesthetic, NOUHAUS' Module Ergonomic Sofa Bed is one of the most deceptively simple and attractive futon beds we've seen this year. The clean lines, airy design, and tufted cushions ensure this model works in just about any space. Ten available colors allow you to dial in your exact look even more. It effortlessly converts to a queen-sized bed with a foam and latex mattress, and all three upholstered cushion surfaces—whether velvet, woven, or plush microfiber—are extremely comfortable.
Although it seems pricey at nearly $1,800, we would argue this isn't just a futon, but more of a traditional sofa that happens to double as a bed. It's handsome enough to be a statement piece in almost any room. The only downsides worth mentioning are that the heavy-duty construction means this is a heavy piece of furniture at more than 150 pounds. Some assembly is required too, although it's mostly limited to screwing on the included legs.
What do buyers say? "This is the best couch ever! … This is exactly what I needed. It's super comfortable and very stylish," said one Walmart reviewer.
7. Nathan Velvet Sofa Bed
"Luxurious" doesn't have to mean "expensive." Castlery's Nathan Velvet Sofa Bed looks, feels, and is more plush and swanky than its reasonable $800 price tag might suggest. That's thanks in large part to the retro-mod design that includes delicate pine wood legs and a plush velvet upholstery in Deep Teal or Midnight Blue. The futon conversion is effortless when it's time for bed, and many reviewers note the spring-and-foam mattress is extremely comfortable.
It's worth noting that shipping isn't included in the price. Depending on where you live, this could add considerably to the all-in cost. Like many upholstered futon beds, this one doesn't include removable covers, so it's spot-clean only. The "firm" seat softness might be a bit too firm for some, so you may want to inquire about the return policy if you're on the fence about this one.
What do buyers say? "Very happy with the Nathan Sofa Bed. It doesn't look at all like a sofa bed. It is firm and looks luxurious in my living room," said one Castlery.com reviewer.
8. Andes Futon
Yep, West Elm has a futon! The Andes Futon is proof that these mainstays are definitely seeing better days when it comes to style. This sleek sofa folds down quickly and easily, and the simple gray color will match just about any decor idea you had in mind (although you can also get it made to order in a variety of other colors).
9. DHP Jasper Coil Futon
Simple and seriously budget-friendly, this white futon found at Walmart is a great entry-level option. It's upholstered in white faux leather, and it gives off a sleek and elegant look while still remaining practical.
10. Novogratz Palm Springs Split Futon
This economical option comes in three colors and has a split back that lets one side lounge while the other stays upright — or you can put both sides down for a comfortable sleep. Novogratz also happens to be one of our favorite budget brands you should know about.
What to Look for in a Futon Bed
Shopping for a futon or futon bed is like trying to find the perfect bed and the perfect sofa in one piece of furniture. It needs to work as a couch during the day, with cushions that are soft, yet supportive. At night, those same cushions form a sleep surface that needs to work with your (or your guests') preferred mattress firmness. It's a delicate balancing act for sure.
Here's a quick rundown of the main things to consider when shopping for that best futon bed:
Size: The futon bed you choose will, of course, need to fit in the room it's meant for. Consider the size of any models you're shopping when they're folded and unfolded. In "unfolded" form (i..e., as a bed), you'll likely want a little extra space around the outside edges so you don't feel shoehorned into the bed, especially if it will be setup against a wall.
Conversion mechanism: Converting the futon from bed to couch and back again should be as simple as possible, doable by just one person with minimal effort. If you can't shop in person, check buyer reviewers to see how easy (or not) others found your potential new futon's conversion mechanism.
Color swatches: If you're particular about finding just the right futon that matches your decor, consider contacting the manufacturer or retailer to see if swatches are available.
Price: Like any type of furniture, futons vary widely in price from around $200 for a basic model to more than $3,000 for a fully upholstered, made-to-order sectional futon sofa. Many retailers offer free delivery these days, but some do not. Keep in mind that you may need to pay $100 or more for delivery, and return delivery may be extra as well.
Removable covers: Oddly, cheaper futon beds are more likely to include removable covers, while pricier models with upholstered cushions typically don't. This isn't necessarily good or bad. Just know that, without a removable cover, spot-cleaning is your only option if someone accidentally upends an ice cream cone or red wine on your beautiful new futon bed.