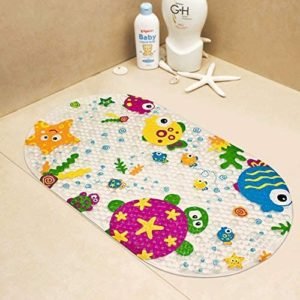 Customer Reviews:
1. I bought this bathtub mat for my granddaughter and we both love it! The bathmat is made of quality material and is very easy to wash. The best non slip bath mat for baby was very easily suctioned to the bathtub floor. My granddaughter loves the colors of the bathmat and loves to sit on it.
She is just beginning to stand up on her own and trying to walk and the bathmat was a good grip for her feet in the bathtub and works as a cushion as well when she sits back down. The bathmat is very easy to clean and stays in place until you are ready to pull it up. I would recommend this bathmat for anyone with children.
2. This best non slip bath mat for baby is fine. My daughter really enjoys the design. It is a good size, though a little smaller than I anticipated. My biggest complaint is as free two weeks of using it, one of the ends still wants to curl up. After some firm pressure, it will stick, though.
3. Exactly what I was looking for. Good size for my 15-month old. Some might find it small for their tub but it works for us. It provides the added anti-slip and cushion protection needed. Love the colors and cute duck pattern.
4. Super cute, colorful design. My 1 1/2-year-old daughter finds it fascinating. It also suctions extremely well to the bathtub. Just let the bottom of the tub get wet with the water first, then push in a couple of the suction cups on the outer edge. When we're done and I go to pull the mat off, all the suctions are stuck!
5. My son was afraid of the big tub and we were having trouble transitioning. We thought it was because he felt a slippery surface and he didn't feel safe. We got this best non slip bath mat for baby to entice him to try the tub without a laundry basket (lol) for bath time– it worked! He likes the bright colors and he sits happily in the big rub now– no laundry basket needed! More at https://www.brandreviewly.com/best-non-slip-bath-mat-for-baby/.
Bad Reviews:
1. It's as cute as it looks but it's completely useless as a mat in the tub. Will not suction to the tub. Followed the steps to a tee with no positive results. Got it because my 9 month old has started trying to stand in the tub and occasionally slips. Since it won't suction its actually more of a hazard.
2. The pattern and colors were nice and bright, however, the suction was the worst. We can't even use it in the tub. It does not stick and is Dangerous for the kids to sit on.
3. he colors are lifelike and the turtle looks naturalistic – my daughter is a fan of ocean life. The material wasn't too stiff at the beginning, that made it easier for me to use from the start but it smelled a bit. It sticks to the bathtub and I and my young daughter haven't slipped on it so far. More at https://www.brandreviewly.com/.