In these uncertain times preserving food has become one of the easiest ways to make sure that healthy and nutritious meals are always available. Buying the best stainless steel food dehydrator is one of the easiest (and most fun) ways to create dehydrated snacks and main meal ingredients.
But there's another reason aside from having to cater to the family's nutritional needs in emergencies that have made food dehydrators so popular. They're the ideal way to enjoy great food when you're out in the bosom of Mother Nature, be it camping or hiking.
The number of raw ingredients that can be placed in a dehydrator for later enjoyment is almost limitless – and so is the choice of models that are on shelves (virtual and otherwise) across the country.
However, for many the attractions of a stainless steel dehydrator are difficult to ignore. Not only are they a tremendously attractive addition to any kitchen and incredibly tough (and corrosion resistant) – but they offer incredible functionality when it comes to preparing raw food.
Here are some models that have received the thumbs up from critics and five-star ratings from consumers.
1. The Samson SB-1010-SS 'Silent'
---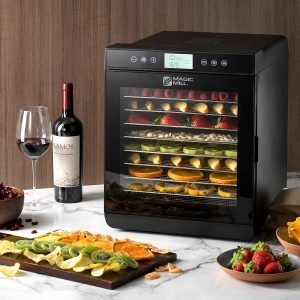 ---
If there is one criticism that pops up again and again when it comes to food dehydrators it is that they can be noisy. This model is whisper quiet. It also boasts more than adequate capacity with ten stainless steel trays. It is suitable for a wide variety of raw ingredients with a timer that can be set for anything from 90 minutes to over 19 hours. It also boasts eight heat settings.
2. The STX International STX-DEH-1200W-XLS 'Dehydra'
---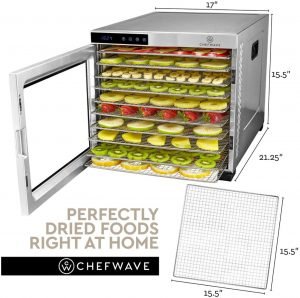 ---
The model name may be a mouthful – but it's appropriate for an appliance that provides plenty of mouthfuls. This is a big machine with masses of space. But a word of caution, along with that cavernous 20″ depth, 16.5″ width and 14.5″ height come 10 trays and a lot of weight (32 pounds) – and it requires a lot of counter space. This is not the dehydrator for the smaller kitchen. The temperature can be set anywhere from 97 and 165°F (in 5-minute increments) and the timer can be set for up to 15 hours. It also comes complete with a book of recipes included to make your first dehydrator experiences extra rewarding.
3. The COSORI CP267-FD
---
---
If you want ultimate temperature control and your dehydrator needs are fairly modest this could be the stainless steel dehydrator for you. The digital readout and control panel makes setting the perfect temperature and time (it can be set for a massive 48-hour cycle) parameters a breeze – and it offers exceptional temperature control due to the fact that heat can be set in one-degree increments.
It only has six trays – but it's perfect for those smaller dehydrating tasks. The inclusion of a 50-recipe booklet is a definite plus and it certainly offers great value in terms of retail price point.
Stainless steel dehydrators look great and can shrug off the harshest of kitchen conditions. They're the perfect appliances for those who want to ensure that they always have nutritious food ingredients available – even if they are far from an electrical outlet.
There's another consideration that should be taken into account. This is food preparary=tion made fun – and in these times, who couldn't do with an extra dose of fun in the kitchen. More at https://www.brandreviewly.com/best-stainless-steel-food-dehydrator/.